I was never one of those children who was steered in the direction of learning a musical instrument, probably because neither of my parents ever exhibited any musical ability. Which is being truthful rather than unkind. Plus we weren't middle class enough to have a piano.
Music wasn't one of my favourite lessons at school, seeming mainly to consist of playing scales on a glockenspiel. Then one day a change of music teacher ushered in a new regime and the music practice rooms acquired little Yamaha mini-key electronic keyboards, with the result that I got interested in playing music as well as listening to it. I used to relish my time on those keyboards, messing around with the different preset sounds you could get out of the primitive FM synthesizer.
For three years afterwards I asked for increasingly sophisticated Yamaha PortaSound keyboards every Christmas. I taught myself to play after a fashion from those "learn to play the keyboard books" that came with an audio cassette featuring some earnest-sounding man cranking out standards such as "Sloop John B" on his Bontempi organ in the front room.
When Father Christmas brought me a Yamaha PSS-480, I finally had access to a primitive sequencer and a programmable two-operator FM synthesizer—effectively a third of a DX7, synth nerds!—and after a while I took the next logical step and started to write my own songs.
Fast forward a few years and I'd amassed quite the collection of my own material, which existed as atrocious quality home cassette recordings, scribbled down chords and lyrics and even hand-written sheet music if I thought one of my songs was particularly worthy of preservation.
When I entered the world of work and saved up some money, I bought the then-new Yamaha W7 synthesizer workstation and some expensive Sennheiser headphones rather than going down the more obvious and practical route of learning to drive and buying a cheap second-hand car—no wonder I didn't get the girls!
The day the W7 arrived was amazing—I couldn't believe I now had a professional quality studio-in-a-box in my bedroom. I used to spend hours on the thing, laboriously programming in the songs I'd written and saving the results using the built-in 3½ inch disk drive (more on that later). Incidentally, the decision to use headphones with the W7 wasn't born out of consideration for the neighbours; it was simply because I couldn't afford an amplifier and monitor speakers.
Unfortunately, the early model Yamaha W7s shipped with an unreliable disk drive and to cut a long story short, the drive became increasingly unreliable which meant that I couldn't load or save my creative endeavours, rendering the W7 effectively useless. Finally, to top it all off the headphones stopped working as well.
I was devastated, but was also getting increasingly distracted away from making music by the lure of the PC and the world of computer programming. I still have my W7 in storage i.e. taking up room at my mother's house. One day I will get around to sending it off somewhere to be repaired, no doubt at great personal expense.
I didn't really do anything with music for the next few years until I bought my first Mac, discovered GarageBand and noodled around creating the odd track here and there. In iPad Too I raved about GarageBand for the iPad and now one month later, it's the app I've spent the most time using, contradicting the notion that you can't be creative with an iPad.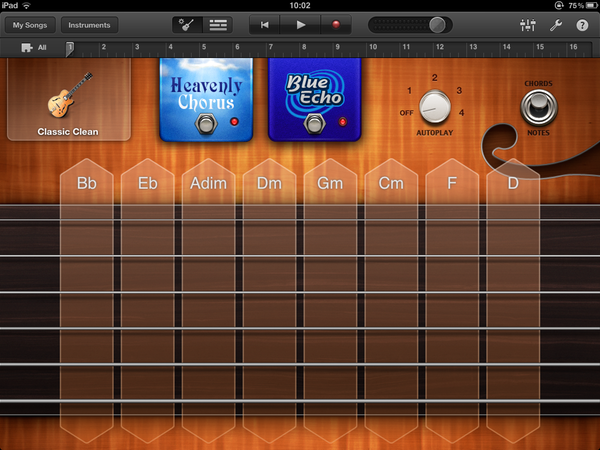 I wrote a new instrumental track that I named Rapture for no other reason than because I started work on it on the 21st of May, which is when some people predicted the world would end. I started the track by "strumming" the Smart Guitar and quickly came across a chord sequence I liked, then I laid down a rhythm track using the Smart Drums. I played the other instrumental parts conventionally using the on-screen keyboard instrument and spiced it up with a sprinkling of samples from GarageBand's built-in collection.
Crank up the volume and take a listen by clicking the Play button below and let me know what you think!
Rapture
I also created a stripped-down, remix version:
Rapture (Dub)