I was reading about the winners of the Apple Design Awards on Daring Fireball today. Impressed by the sound of iClip Lite from Inventive, I clicked on the link to investigate. This is what greeted me: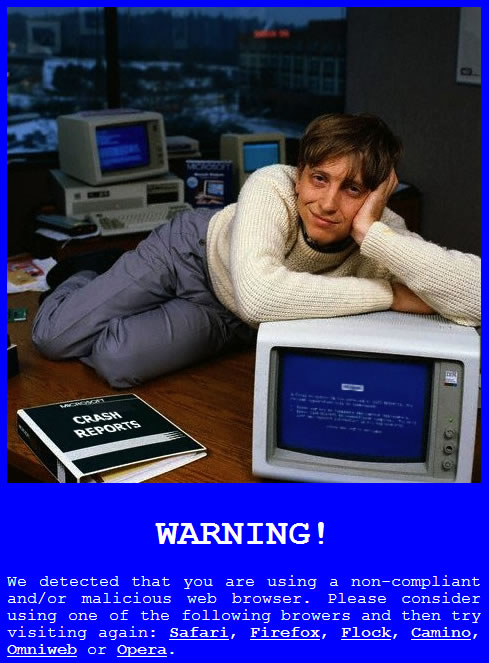 —Talk about rude and unhelpful!
Yes, I was using IE 6.0 to try to view the site and yes, I know that it's not as good as the latest browsers from Mozilla, Opera, Apple and Microsoft themselves—i.e. [sic] IE7. However, I happened to be viewing the site from work where I'm prohibited from using any of those great browsers because the corporate standard is IE 6.0 and frankly, you have to pick your battles. Also, there's no getting away from the fact that IE 6.0 still has the majority share of the Web browser market.
I don't mind an unobtrusive banner gently suggesting that I need a newer browser to get the best site experience—I think Subtraction used to do this—but to not let me into the site at all because I'm using IE is not only annoying, it's also pretty stupid in a business sense. You just ensured that I'll almost certainly never use one of your products, which is a shame because I definitely dress on the Apple side nowadays rather than on the Microsoft side. Insult IE users if you must, but why couldn't you bring yourself to provide a link so that they can view the site anyway? Don't trot out the excuse that supporting IE is too much bother, because it's not that difficult to construct a standards-compliant site that looks good in all the major browsers.
I'm not done yet as there are two more things that I'd like to get off my chest. Firstly, Windows hardly ever blue screens nowadays, but I guess you've not used it since that photo of Bill was taken in, ooh, about 1985? Secondly, it's spelt browser not brower. Now who feels silly?