I didn't seriously consider anything else for a minute. Sure, I'd read comparative reviews and there are devices out there that offer more features for less money, but they're just not the same. They don't automatically switch on when you plug the headphones in, or gradually fade the backlight off. You can't personalise them. They don't come in packaging that has been as fastidiously designed as the device itself. They're just not "Designed by Apple in California".
I've treated myself to a fourth-generation 20 GB Apple iPod, my first ever Apple purchase. I agonised over whether to go for the iPod mini, but in the end the economics of getting an extra fifteen gigabytes for not much more extra money swayed me to opt for the classic iPod, albeit the latest one with a mini-style Click Wheel™. And it's hardly huge. Having that much disk space means that I can use it as a portable off-site backup store too. I didn't fancy the extra thickness of the top-of-the-line 40 GB model and I just don't need that much space.
I don't actually need another MP3 player either, as I already have a perfectly good Diamond Rio 500 that I bought about four years ago. It has 32 MB internal memory and the same again on a memory card. A tiny amount by iPod standards but more than sufficient for the average return train journey. And I still love the thought of having a device with no moving parts. I'm sure that's how they'll all end up in future. The fact that there's a hard disk in the iPod both excites me at the thought of its capacity, and terrifies me worrying about its fragility. In truth you don't even know it's there. Apple's engineers are clever.
The iPod has been calling me to buy it for quite a while, until finally I reached the sweet spot where it's affordable to me without being an outrageous extravagance. Of course, it's still a luxury item but then it does feel like one in every way. And they're not that expensive now—I see no end of student types with iPods, who really ought to be spending their money on alcohol or paying off student loans or something.
I ordered the iPod directly from Apple three weeks ago. It wasn't any cheaper from Amazon and I wanted to take advantage of the free laser engraving offer, which expires at the end of this month. The purchase process was painless enough, although Apple's online store isn't exactly a beacon of good website design. Anyway, I digress. I got the usual woefully optimistic shipment date and had the usual nightmare trying to actually get my hands on my purchase. It was shipped using TNT and I had to speak to five different people in various departments until we could agree a delivery date that was convenient to me as well as them. Why are these things never straightforward?
Finally the iPod arrived this morning in a sturdy parcel. I'm not going to make any apologies for describing the packaging in some detail because it's quite famous. Once I'd opened the parcel I was greeted by the top of a black box with a white Apple logo in the centre. Something good was going to happen! Talking of the Apple logo, considering how particular they are about their aesthetics, it surprises me that the apple stalk in the logo isn't exactly the same size as the bite taken out of the apple—as if one comes from the other. I digress again.
I carefully removed the iPod box, the shrink wrapping and then the outer sleeve. Now I had a black box that hinged open to reveal a white surface with only "Designed by Apple in California" written on the right-hand side. Classy. The iPod experience so far reminded me of expensive fragrance packaging or maybe something in an upmarket clothing boutique. I peeled back a flap on the left and it simply said "Enjoy". This turned out to be a box containing the instructions, warranty details and installation CD-ROM. As you can imagine by now I was desperate to get through Apple's fetishistic packaging to see the iPod itself. I opened the flap on the right and there it was, covered in a protective film telling me not to steal music and containing some simple usage instructions on the reverse.
It's been said before, but pictures really don't do justice to the appearance of an iPod. You have to see the real thing. The front is pure white apart from the display and the ingenious, touch-sensitive Click Wheel. It appears to be coated in a lacquer which makes it very shiny. Talking of shiny, the rest of the iPod is chrome, which looks fantastic until you actually dare to touch it. Then it smears and scratches rather easily. This is one of only two negatives that I've found so far. The other is that long song titles inevitably get badly truncated in the display, so if you have several different mixes of the same song you have to guess which is which. I'm not sure what the answer is but I'm certain that Apple are thinking about it.
Even the back's gorgeous, albeit smeared and scratched already!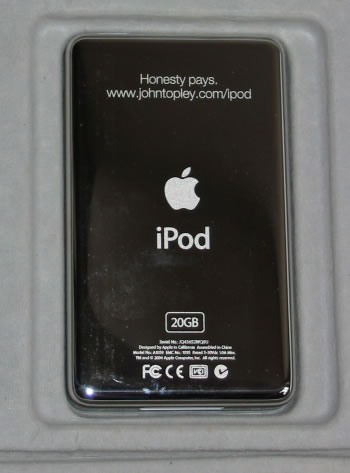 I cannot believe that this wondrous device that fits comfortably into my hand contains a twenty gigabyte hard disk! By my calculations, ten years ago such a disk drive would have cost over £20,000, although they weren't even generally available back then! What an earth will we have in another decade?
Although I could turn my iPod on as it had some battery charge, I was a good boy and followed the instructions by charging the battery for four hours or so. Even the power block is a work of art and all in white, naturally. It uses the FireWire cable to get the charge to the iPod. The cables are beautifully designed and packaged too and sport the "Designed by Apple in California" text, as if anyone had any doubt.
Once the battery was charged I popped in the installation CD-ROM. At this point I'd connected the iPod to my PC using the USB cable, because although I thought my PC had a FireWire port, I wasn't quite sure where it actually was! Windows told me that I'd connected a high-speed USB device but that I didn't have a high-speed USB hub, so I guess that means that my computer doesn't do USB 2.0. Then I decided that I really ought to try to locate the FireWire port and fortunately I did. I ran the setup program as an Administrator using the Run As command and got an error about not being able to find a DLL, so I logged on as Administrator properly and tried again. This time it went without a hitch. I didn't install iTunes because I'd already downloaded and installed the latest version a few weeks ago.
Like some others, I was initially underwhelmed by iTunes. Then I started using it to rip my CD collection, whereupon the little details that mean so much started to impress me. For example, upon inserting a CD, dragging the tracks to a blank area of the playlists pane creates a new playlist and imports the tracks. The Smart Playlists feature is really, erm, smart and has probably the best query builder GUI I've ever seen. And unlike Windows Media Player, iTunes only comes with one visualisation but it's a truly mesmerising one.
These are all great features but the hidden jewel behind iTunes is the Gracenote online music database. Controversial because it went from open to proprietary, it has correctly identified every possible CD I have given it, including some pretty obscure ones. I've tried these services in the past and they've been hopeless but without the Gracenote CDDB technology I don't think the iPod + iTunes success story would have happened. I've currently got 695 tracks in my iTunes library—who has the time to enter all those song titles by hand? The Gracenote database isn't perfect though. Because it's contributor-driven, some of the song information punctuation is a bit lazy and I find a lot of the genre categorisation suspect. It's good enough for the purpose though. Although FireWire is blisteringly fast, it still took a few minutes to transfer the 2.7 GB of music that I've converted so far. I unwrapped the iconic white headphones that come in pharmaceutical-style silver foil packaging, and off I went on a musical journey courtesy of the shuffle feature. It really comes into its own when you've got days of music to shuffle.
The runaway success of the iPod and iTunes is entirely deserved because it really is the best overall package and boy, what a package! Everything about it feels as if it's been carefully and lovingly designed by people who are passionate about what they do and I really appreciate that. The iPod is a masterpiece of hardware and software engineering, of product design, of graphic design and of packaging design. If you're dithering over whether to buy one then dither no longer. I've noticed that those new iMac G5s are quite reasonably priced too…