This will be a review of two halves. First I'll tell you about the hardware and then I'll discuss the software. I'd been considering buying a PDA for a while and decided to buy the Hewlett Packard iPAQ Pocket PC h1910 (to give it its full title!) after playing with one in a shop at Stansted Airport whilst waiting to fly to Sardinia. I'd been considering a Palm T2, but the Pocket PC impressed me with the quality of its screen and its small size. I have owned a PDA before—a few years ago I bought a US Robotics Pilot 1000; which changed its name over the years to the PalmPilot and then just the Palm. And US Robotics became part of 3Com. Enough history, what about the iPAQ hardware?
It's that Christmas morning feeling!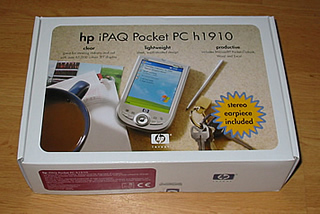 The 1910 (as I'll be referring to it) is at the bottom of the iPAQ range but nevertheless, really is a beautifully engineered piece of kit. It just feels like a gorgeous silver object as you hold it in your hand. Most of the front is taken up with the 240 x 320 pixel TFT screen that can display 65,000 colours with a vibrancy and clarity that has to be seen to be believed. The brains of the thing are provided by a 200 MHz Intel XScale processor, that is actually faster than the CPU in my first desktop PC! In use it feels responsive. There's 64 MB of memory, although it's actually 46 MB because the rest is taken up by the Pocket PC software.
Although you wouldn't notice that this is a budget iPAQ from the device itself, compromises have been made in the overall package. There's no synchronisation/charging cradle. Instead you get a power brick that plugs into a special adaptor plug for charging the battery, or plugs into a slightly different adapter for syncing data and charging. In short, it's a messy tangle of wires. Better to save up for the HP cradle, which at least has the neat feature of being able to charge a spare battery if you're saving up for one of those too. You'll also need a case of some sort—I opted for the aircraft-grade aluminium hard case from Proporta—and you really should budget for buying a decent sized memory card too.
The anticipation builds…
The 1910 includes Microsoft Pocket Internet Explorer, which is a bit odd as this particular iPAQ has no Internet connectivity. I guess freeing up some memory by creating a special build sans IE of the Pocket PC 2002 operating system just for this device wasn't high on Microsoft's list of priorities. I did manage to copy this website across and browse it—just because I wanted to see how it looked. The good news is that my accessibility work paid off and it was all quite readable on the small screen.
The supplied "Getting Started" leaflet is pretty thin and after you've read that you're left with a reference guide, which comes as a dreaded PDF (Adobe Acrobat) file. I found out by accident that holding down the power button puts the device into some sort of standby mode and as this isn't mentioned at all in the reference guide, I'll leave you to draw your own conclusions as to the level that it's pitched at.
Microsoft ActiveSync 3.5 is supplied for synchronising data with a desktop PC. Unfortunately the installation depends on Outlook being installed and the companion CD-ROM even comes with a "complimentary" copy of Outlook 2000. I had Office XP installed but without Outlook, for it seems to be one of the most insecure pieces of software ever written and I've just never really got on with it. This was where the trouble started.
I installed Outlook 2000 which was fine but had the effect of permanently deactivating my copy of Office XP. Maybe I should have installed Outlook 2000 into its own folder. After lots of cussing I uninstalled ActiveSync, Outlook 2000 and Office XP and manually deleted all the detritus the uninstaller left behind on disk and in the registry. I thought Microsoft's installers were supposed to be better behaved nowadays? Then I re-installed Office XP, this time including Outlook 2002 and then installed ActiveSync and I could finally connect to the 1910.
The only difference between men and boys is the price of their toys.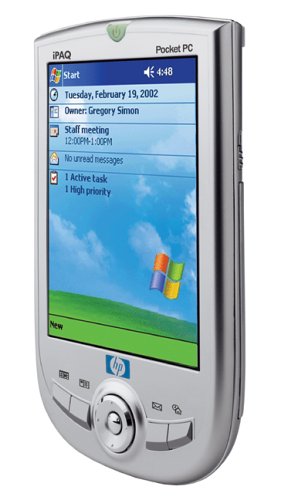 The ActiveSync software works well, detecting the 1910 as soon as it's connected and initiating a sync operation. One thing that caught me out was the fact that for any files that you download onto the device, you actually end up with copies of them under the My Documents folder on the desktop PC, and deleting them from there will also delete them from the 1910 the next time you connect. The software also installs an Explorer namespace extension i.e. a Mobile Device icon appears in My Computer, but so far I haven't been able to get it to do anything.
Thinking that it was time to get some third-party software installed, I headed over to HP's iPAQ Choice Software website to redeem my free five points. I bought a ZIP file utility program and an interactive route planner/map for London that's actually rather impressive. HP insist on making you install their own proprietary download agent for getting hold of the software you've selected from their site. Unfortunately this wouldn't work the first few times I tried to use it and it seems to be extremely sensitive to any other Internet activity going on at the same time. Oh and it looks like a Windows 3.1 program.
Once I did finally manage to download my software, I had difficulty installing it. I run as a non-admin but even using the "Run As" feature to install the software using administrator privileges didn't work. I solved that one by actually logging on as Administrator, and it installed once I'd stopped ActiveSync from trying to set up a profile for another user account. I hope all this stuff will work properly in Windows Longhorn. It's nowhere near as slick as how it was with the (Palm)Pilot, which just worked out of the box, without having to think about anything. And I much prefer the Palm Desktop software to Outlook.
The 1910 is a marvel of miniaturisation let down by poorly thought out and implemented software, but I don't regret buying it for a minute.