I signed up for a couple of Java technology newsletters recently, courtesy of Sun Microsystems' Java Developer Connection programme. Notice anything odd about the registration form that confronted me?—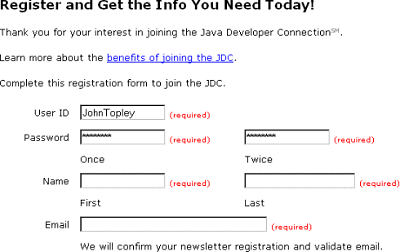 —It took me a good few minutes to work out that the form was asking for my password once and twice and my first and last names, not my name once and twice and the first and last part of my e–mail address!
The form is arranged in such a way that the text field labels Once, Twice, First and Last draw attention to the text fields below them and not to the correct fields above. The designers of the form should have used whitespace to separate the different sections. Often the absence of content is just as important as its presence.