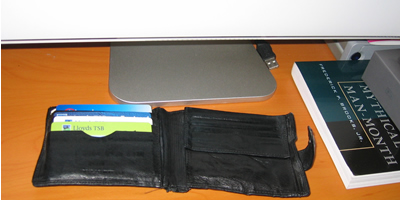 Continuing the "What's In Your Wallet?" meme started by my good friend John Conners, here are the contents of my wallet at the time of writing:
A credit card
A debit card
A cashpoint card that is actually obsolete because I can use the debit card for withdrawing cash, but my bank still send me a new one every few years
A Citibank card that I think I have to use if I ring them up
A bronze award blood donor card
A Homebase loyalty card that I relunctantly accepted because it meant saving money on some kitchen furniture and which I never intend to use again
A Hilton HHonors [sic] card that I'll probably never use
My National Insurance card
An NHS European Health Insurance card
A £1 BT Phonecard, valid until December 2002
A list of "important telephone numbers" card from my bank
£45 in cash
A return train ticket to Newport, South Wales, purchased through work for my meeting tomorrow
A dental appointment card reminding me that my next check-up is on the 2nd December 2008 at 4.30 PM
A business card for a local taxi firm that I never use
A receipt from South West Trains for the last train ticket to London Waterloo I purchased
A £25 Next voucher from Christmas 2005
A complementary Moo card given to me at the Future of Web Apps conference 2007
A business card from the Financial Advisor who arranged my mortgage
A piece of paper with a list of my relatives' addresses on that I invariably look at on holiday when writing postcards
A Tandem Ticket to The Caves of Nottingham/The Tales of Robin Hood, valid until 10 August 2000
A "Beat Excess Stress" leaflet from my last job, kept because I thought it was hilarious
A photocopy of my birth certificate that I probably used as proof of age to get into rubbish nightclubs
An official poll card for the 1992 parliamentary election, that I probably used as back up proof of age
A map of Norwich city centre from one of my earliest dates with my partner
My front door key
A key for my Kensington laptop lock
A tiny key for one of those small suitcase padlocks that you could probably cut through using nothing more than a big pair of scissors
The wallet itself is a black leather one that I've had for as long as I can remember. It must be at least eighteen years old and I seem to recall it was a present. It's only whilst writing this list that I've come to realise how much crap I carry around in it, but there's something strangely reassuring about having a core set of items in there that never change!