Rightly or wrongly, the National Health Service in Britain receives a lot of criticism. My own family's experiences of state provided healthcare have been mixed, to say the least. However, in my experience one area that we have got right is the National Blood Service.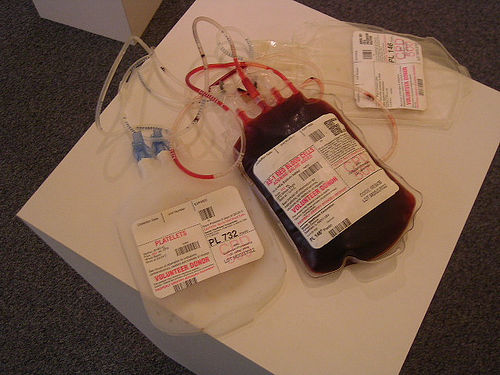 I give blood every four months and today two units came to the car park at work and I gave blood again, making my tenth time. I have always found the nurses to be helpful, professional and courteous and generally the whole process has always gone smoothly and with the minimum of fuss. The biscuits are nice too! I'm sure there are times when it doesn't go quite to plan, but if that were to happen to me I'd have every confidence in the ability of the Blood Service staff to deal with the situation.
Another aspect that impresses me about the whole operation is the efforts they undertake to make you feel valued and to thank you for your C738H1166N812O203S2Fe contributions. For example, as today was my tenth time, I received a certificate and a nice pin badge. I will also receive a new colour-coded "credit card" that has my donor number and blood group printed on it.
However, it's not all Rhesus Positive news. What saddened me today was that there were appointments still available for people to give blood. The unfortunate reality is that more donors are always needed to keep blood supplies replenished. According to the Blood Service website, there's just under nine day's stock remaining of my own blood group (B positive). That's not a lot when you think about it. If you haven't given blood before, why not consider it? I think that half an hour of your time and about a second of very minor discomfort is a small price to pay if you can help save someone's life!
Blood Bag photo credit: Spike55151.