I never had any pets whilst I was growing up, we just weren't that kind of family. So I found myself reaching my thirties before getting my first pet. We met George in an RSPCA rescue and were attracted to him with his beautiful all-black coat and inscrutable expression. He was about five and a half years old. He'd been in there for several months, indeed he was on his second stretch in a cat rescue.
We brought George home one Saturday in September 2005. I remember the day well. He spent several hours pacing around and inspecting the place and then eventually he sat on my lap, as if he'd decided that he was happy to call our house his home. It was a special moment. He was also happy to show us how good he was at jumping through any window that was open, no matter how inaccessible it seemed to us! After a fortnight we let him have free roam of our back garden. One morning he went exploring for several hours, which meant that I was seriously late for work, as I had to wait to make sure that he'd come back. Eventually he did, much to our joy and relief. We never did really know where he used to go.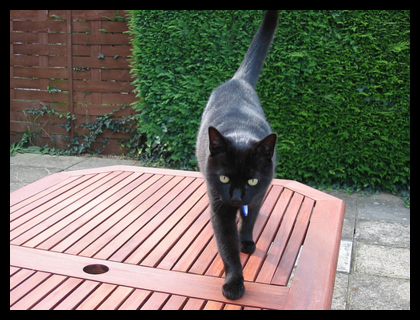 George was never a cat with great confidence, but the other side of that was that he was the most placid and good-natured cat we've ever known. I can't recall a single time when he lashed out or scratched me. He didn't really like being picked up, but would tolerate the attention for a while before wriggling free. George's main hobbies were sleeping and playing Fishy—a game that consisted of chasing one of those fishing rod cat toys about the house and garden, often at breakneck speed.
When we returned from holiday a few weeks ago, George didn't seem quite himself somehow, but it was hard to put a finger on why exactly. We put it down to some distress that George had experienced when a neighbouring cat had come through our cat flap to steal George's food. Mind you, the cat had tried it a second time and George had seen him off with an uncharacteristic display of aggression. Unfortunately as time went on, George seemed to get increasingly subdued, until he was spending a lot of time hiding in the gap between the back of the sofa and the wall. When he did get up, he was a bit unsteady and paced around in circles a lot. He also seemed confused. Then he stopped eating and drinking. The vet said that she feared that George had a neurological disorder and that he could no longer see properly. It had all happened so suddenly.
We stopped George's suffering on the 28th of September. We only got to spend a year with him, but it was a happy one for all of us. Now his food bowl, his toys and his other things have been packed away and the house seems very empty without him. I keep expecting to see him curled up asleep in his favourite armchair, but he's not there. Goodbye George, dear friend. We'll always miss you and will never forget you.