Windows superstar Raymond Chen has provided explanations for a couple of the Windows XP user interface oddities that I wrote about previously. See Exhibit A: The Welcome Screen and Exhibit D: Notepad. In the meantime, I've found three more exhibits.
Exhibit I: Semi-Transparent Icons
Realistic representations?

A lot of the icons in Windows XP are strangely semi-transparent. They look pretty but don't support the metaphors they represent. When was the last time you saw a Notepad with a clear cover, or a folder with a see-through flap?
Exhibit J: Taskbar and Start Menu Properties
The property sheet for the Windows Taskbar and Start menu has always featured a cool little graphic for illustrating what the various options do. Unfortunately in Windows XP Microsoft forgot to update the graphic from the beta (presumably) to reflect a design change in the shipping code. Notice the difference between the chevrons in the circular button that hides or shows the notification area icons:
Spot the difference.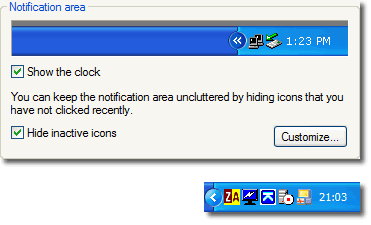 Exhibit K: Picture Viewer
This is actually a positive exhibit that I thought I'd include to prove that Microsoft did get a lot of things right. I was archiving some photographs to CD-R using Windows XP's built-in burning functionality—it's convenient and I didn't need anything more sophisticated—when the wizard helpfully asked me if I wanted to include a picture viewer on the disc:
Maybe next time, but thanks for asking.